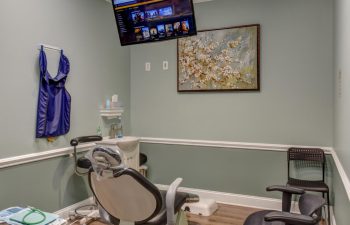 While dental crowns can last a long time when they're adequately cared for, they can fall off due to normal wear and tear. They can also fall off after an injury or trauma. If your crown does fall off, the injured tooth is exposed to bacteria, nerve sensitivity, and additional damage. No matter how old the crown is, the tooth underneath will need immediate protection from another crown. 
Badly Broken Teeth Never Fully Heal
Teeth do have some self-repairing capabilities. With the help of added fluoride in your water and toothpaste, your enamel can rebuild. Plus, your saliva assists with the remineralization of your teeth after damage. However, if the damage to your tooth was significant enough to require a crown, it is most likely permanent.
Knowing this, you can see the danger of a previously damaged tooth that is now unprotected from food debris, damage, and hot or cold. Not only will you be more likely to experience pain from temperature changes and chewing, but you could expose the tooth to infection if food lodges in the cracks or holes.
Can You Eat With a Broken Crown?
If your crown falls off or breaks, the best option is to see your dentist the same day or the next day. Many dentists make room in their schedules for emergencies, and a lost crown is an emergency. If you have to eat before your appointment, stick to soft foods.
Some foods that can prevent additional damage to your crown include:
Yogurt

Soup

Oatmeal

Mashed potatoes
To avoid causing yourself pain, avoid hard and spicy foods.
Protect Your Cheeks and Tongue With Dental Wax
Whether your crown completely falls off and exposes a jagged tooth, or it partially breaks, leaving pointed bits of the crown on your tooth, your cheeks and tongue could be at risk of lacerations. You can use sugar-free gum or bits of dental wax over the tooth to protect your mouth from cuts and your tooth from additional damage.
If you need a more stable fix, some pharmacies and grocery stores sell temporary dental cement.
Rinse With Warm Salt Water Before Your Appointment
Dissolve about a teaspoon of salt in 8 ounces of warm water. Swish a mouthful of water gently around the tooth and the rest of your mouth for 30 seconds to help keep it clean. If you can't get in to your dentist the same day, use this same mixture after meals.
 In the meantime, continue to practice good oral hygiene by brushing and flossing surrounding teeth, gums, and tongue. It's best not to directly brush the damaged tooth or to brush very gently. Listen to any signals of pain, sensitivity, or looseness, and don't push your luck with aggressive brushing.
Green Meadow Dental Provides Newington CT Dental Crowns
Whether you've lost or damaged your crown or you need treatment for a damaged tooth, Green Meadow Dental can help. Our office provides a full suite of dental services including general dentistry and cosmetic dentistry, so we can support your oral health and provide aesthetic, invisible fixes for your damaged teeth.
Call 860-854-3363 or fill out our contact form to schedule an appointment.